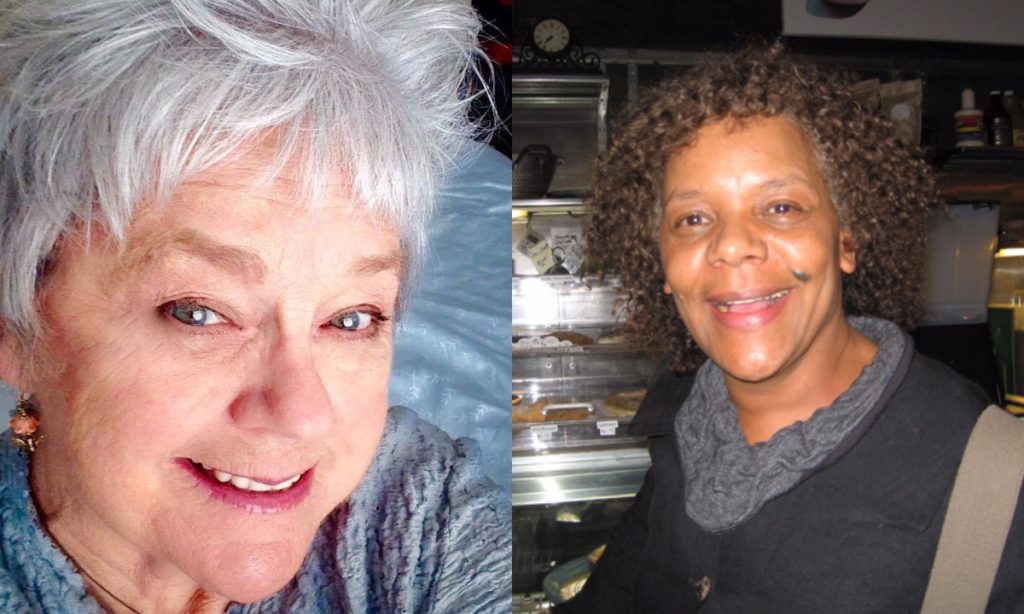 The Poetry Night Reading Series is proud to feature two outstanding poets: Viola Weinberg and Traci Gourdine. They will perform on Thursday, October 19th at 8 P.M. at the John Natsoulas Gallery at 521 1st Street in Davis.
Viola Weinberg is a Glenna Luschei Distinguished Poet. In 1990, Weinberg was named the first Poet Laureate of Sacramento. Her work has won numerous other awards, including The Mayors Award for the Arts, the highest award given to Sacramento area artists. Weinberg has published ten books of poetry, the most recent being last year's A Feast of the Will, by California State University, Chico, on Letterpress. She is heavily anthologized, with work included in Diamonds Are A Girl's Best Friend: Women on Baseball and Ladies Start Your Engines: Women on Cars and the Open Road, both published by Faber & Faber.
In 1979, the California State Commission on the Status of Women named Weinberg "Woman of the Year." In 1989, she was shortlisted for the Thomas Wolfe Award for Fiction for "Lorenzo's Story." Weinberg founded the Tough Old Broads of Poetry, which included Annie Mennebroker, Victoria Dalkey and Katheryn Hohlstein.
Weinberg's poetry has been the basis of several other works by artists in other media. "The Angry Womb" was chosen by artist Thea Evensen for her interpretive work that won the 1991 International Prize for Calligraphy. Her short poems from "How Love Turned Out" were translated to large ceramic plates by Stephen Dean Holsapple for shows at the Blue Line Gallery in Roseville.
For the past four years, Weinberg has lived with Stage Four Kidney Cell Cancer. Through many hospitalizations, surgeries and treatments, she has continued to write. At this time, she is collecting poems for a new book, Rest and Be Thankful. Last month, Viola Weinberg traveled with her husband, photographer Peter Spencer, to Scotland. Using an all-terrain walker, she climbed an extinct volcano, Arthur's Seat, in Edinburgh on her 70th birthday.
Reading with Weinberg will be Traci Gourdine. Traci Gourdine is a professor of English at American River College and chairs the Creative Writing department for the California State Summer School for the Arts. She was Chair of the Sacramento Poet Laureate Committee for four laureate terms. For ten years she facilitated writing workshops within several California state prisons in the Arts in Corrections program for the William James Association. Ringing in the Wild (2015) is Traci's debut full-length poetry collection, published by Ad Lumen Press.
Traci Gourdine's poetry and stories have been published in numerous literary magazines, and she has been anthologized within Shepard and Thomas' Sudden Fiction Continued. Traci and Quincy Troupe were paired in a year-long exchange of letters for the anthology Letters to Poets: Conversations about Poetics, Politics, and Community (Saturnalia Books, 2008). She is co-editor of Night is Gone, Day is Still Coming, an anthology of writing by young Native writers, as well as We Beg to Differ, poems by Sacramento poets against the Iraq war. She has also co-edited the Tule Review with Luke Breit for the Sacramento Poetry Center.
Arrive early to sign up for a spot on the open mic that will follow the readings by our featured poets. Please bring your poems, short stories, and songs. Performers with instruments are especially welcomed. Participants will be asked to limit their performances to five minutes or two items, whichever is shorter. The Poetry Night Reading Series this time will be hosted by Davis poet laureate Dr. Andy Jones, and supported by Dr. Andy's hardworking interns.
Future poets and writers to join us at the Poetry Night Reading Series include Joe Wenderoth on November 2nd, and Lynn Freed on November 16th.
"Writing is an act of reclamation and revolution. It is a dance with power." Rae Gouirand
Media Contact: Andy Jones
aojones@gmail.com
The John Natsoulas Gallery – (530) 756-3938
Please visit the Facebook page for this event:
https://www.facebook.com/events/125188948144412
You are also invited to join the poetry in Davis Facebook group mailing list:
https://www.facebook.com/group.php?gid=2290130152&ref=ts