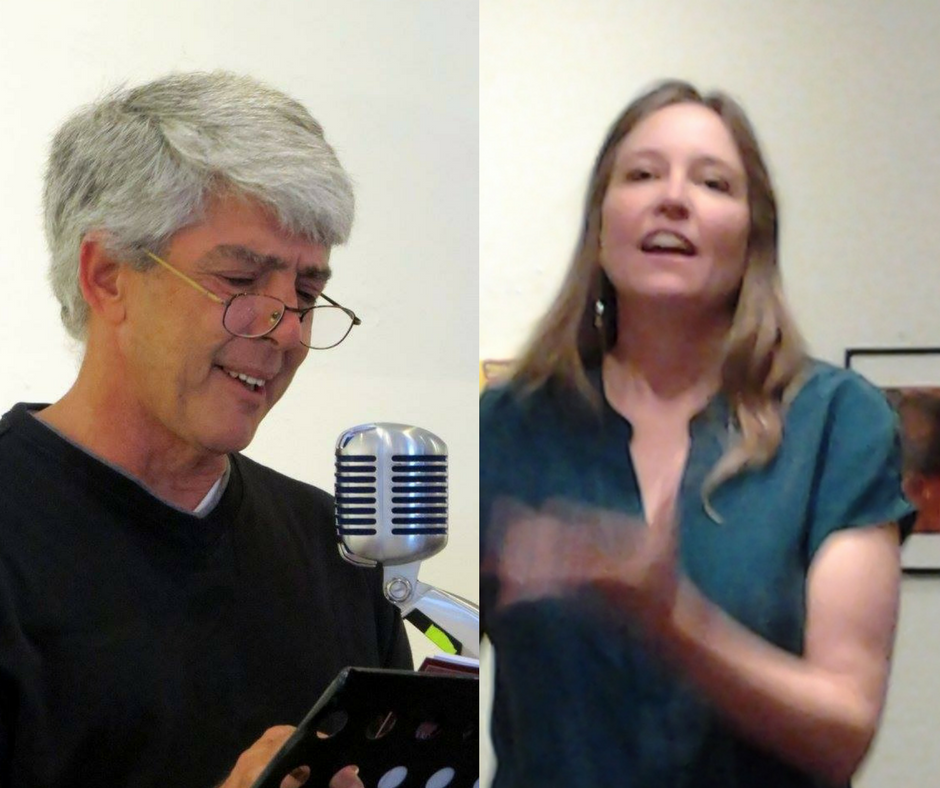 Poets Phillip Larrea and Barbara West
Read at the John Natsoulas Gallery
April 20th at 8PM
The Poetry Night Reading Series is proud to feature poets Phillip Larrea and Barbara West on Thursday, April 20th at 8 P.M. They will be performing at the John Natsoulas Gallery at 521 1st Street in Davis.
Phillip Larrea is an energetic and magnanimous central figure in the Sacramento Valley poetry scene. A poet, actor, television personality, and syndicated columnist, Larrea has been a widely published poet in the U.S., U.K. and Europe. Some of his favorite credits include Commonline Journal, The Rusty Nail, and Decades Review in the U.S., as well as Poetry Bus Magazine, Outburst, Nazar Look, and Silver Bow Anthology, internationally. Larrea studied poetry with A-list poets Thom Gunn and Karl Shapiro, and at various events he has introduced most prominent poets in Northern California. His chapbook, Our Patch (Writing Knights Press), was released in 2013. Larrea's full-length poetry collections include We the People (Cold River Press), released in 2013, and, most recently, Part Time Job, published by Sybaritic Press in 2016.
Opening for Phillip Larrea will be Barbara West. A favorite open mic participant, West is a poet, performer, lead singer, and nurse. Her previous publications include Full of Crow, Sacramento Voices 2016, Swarthmore Alumni Magazine, Escarp, Ascent Aspirations, and The Davis Shambhala Center Newsletter. She has been a featured performer in Davis, Sacramento, and Placerville, California.
An open mic will follow the readings by the featured poets. Please bring your poems, short stories, and songs. Participants will be asked to limit their performances to five minutes or two items, whichever is shorter. The Poetry Night Reading Series is hosted by Dr. Andy Jones, the poet laureate of Davis, and is run by his industrious army of interns. All are welcome to attend this free event.
Upcoming featured poets include Wendy Williams, Will Greene, Indigo Moor, and Lynn Freed.
Media Contact: Andy Jones
Email: aojones@gmail.com
The John Natsoulas Gallery 530-756-3938
Find the Facebook page for this event here:
https://www.facebook.com/events/1125415344235440/
Happy National Poetry Month!