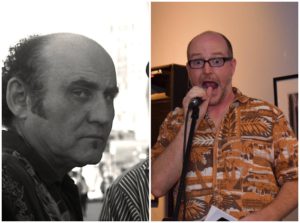 Poets Patrick Grizzell & Geoffrey Neill
Read at the John Natsoulas Gallery
February 2nd at 8PM
The Poetry Night Reading Series is proud to feature poets Patrick Grizzell and Geoffrey Neill on Thursday, February 2nd at 8 P.M. They will be performing at the John Natsoulas Gallery at 521 1st Street in Davis.
Geoffrey Neill is a Sacramento-area poet, as well as the founder of little m press. Little m press has published around twenty chapbooks for Sacramento poets who, for the most part, don't have previous publications, and provides local poetry to local readers. Neill's work has appeared in several anthologies including Late Peaches and Sacramento Voices. Neill has performed his work throughout California and hosts Joey Montoya's Poetry Unplugged at Luna's Café in Sacramento the second Thursday of each month.
Patrick Grizzell is a poet, songwriter and visual artist. His books include Dark Music, Chicken Months (about which Robert Bly wrote, "… the poems have a sweet spontaneity and tenderness"), Minotaure Into Night (with sumi paintings by Jimi Suzuki), and the more recently published chapbooks, 13 Poems, and It's Like That. He has a new full length collection, Writing in Place, under way.
A founding member and previous director of the Sacramento Poetry Center, Grizzell was also editor of On the Wing, an arts magazine, and is an occasional contributor to ArtWeek and other publications. His interviews include conversations with Helene Pons, Fernando Alegria, Robert Bly, Aline Comisky Crumb, Gary Snyder, Ruth Bernhart, Will Durst and others. Grizzell has performed poetry and music with, among others, Allen Ginsberg, Leon Redbone, Jim Ringer and Mary McCaslin, Ed Sanders, Taj Mahal, Shizumi Shigeto, William Stafford, Robert Creeley and Anne Waldman. He studied art and literature at CSUS with Maya Angelou, Dennis Schmitz, Eugene Redmond, Kathryn Hohlwein, John Fitzgibbon, and others.
Grizzell's band, Proxy Moon, will released a CD early this summer and are at work on another. John Lee Hooker once said he "sounds pretty good" on the dobro.
An open mic will follow the readings by the featured poets. Please bring your poems, short stories, and songs. Participants will be asked to limit their performances to five minutes or two items, whichever is shorter. The Poetry Night Reading Series is hosted by Dr. Andy Jones, the poet laureate of Davis. All are welcome.
Upcoming Readings:
February 16: Dorine Jennette
March 2: Amos White

Future: Julia Levine and Gillian Wegner, Rae Gouirand, Wendy Williams, and perhaps even Robert Pinsky
Media Contact: Andy Jones
Email: aojones@gmail.com
The John Natsoulas Gallery 530-756-3938
www.poetryindavis.com
See the Facebook page for this event:
You are also invited to join the Poetry in Davis Facebook group mailing list:
http://www.facebook.com/group.php?gid=2290130152&ref=ts