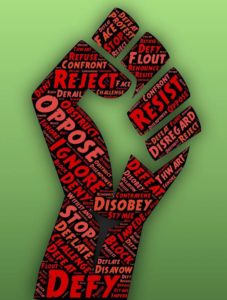 Writers Resist in Davis: A Poetry Night of Protest at the John Natsoulas Gallery
Thursday, January 19th, 2017
521 First Street in Davis
8 PM
Dear Friends of Poetry,
As Thomas Paine said in The American Crisis, "These are the times that try men's souls." This month and especially this week many writers have been exploring what it means to resist. In recent months, a non-profit organization called Writers Resist has been founded by poet Erin Belieu and others. This new organization defines itself this way:
"Writers Resist is a national network of writers driven to defend the ideals of a free, just and compassionate democratic society. The movement rapidly coalesced after poet, Erin Belieu, posted on Facebook, 'We will not give in to despair. We will come together and actively help make the world we want to live in. We are bowed, but we are not broken.'"
Most Writers Resist events took place on Martin Luther King's birthday, January 15th, featuring some of our country's most prominent poets and authors in other media. Wishing to participate in this nationwide conversation on the opportunities and responsibilities of writers of conscience and concern, the organizers of the Poetry Night Reading Series invite you to a special Poetry Night on January 19th to hear and perform writing that embodies resistance.
We ask you to join us, and you are further invited to bring and read a relatively short example of poetry or prose that exemplifies resistance against censorship, discrimination, injustice, prejudice, sexism, racism, homophobia, ageism, scapegoating, religious intolerance, and various forms of corruption. A number of Davis and Sacramento poets will be joining us for this event, including past featured performers.
As my late professor Howard Zinn once said, "Protest beyond the law is not a departure from democracy; it is absolutely essential to it." That said, we plan to remain lawful while surrounded by the beautiful art on the walls of the John Natsoulas Gallery.
The Poetry Night Reading Series takes place on first and third Thursdays of the month at the John Natsoulas Gallery in Davis. Typically featured poets perform starting at about 8 PM, with an open mic beginning at 9 PM. The Poetry Night events are organized and staffed by Dr. Andy's interns, and hosted by Andy Jones, the poet laureate of Davis.
Upcoming Poetry Night events will feature Geoffrey Neil, Bob Stanley, Amos White, Julia Levine, Gillian Wegener, Wendy Williams, and others. Please add first and third Thursday nights to your calendar so you will always feel invited to join us at the Poetry Night Reading Series.
Media Contact: Andy Jones
Email: aojones@gmail.com
The John Natsoulas Gallery: 530-756-3938
Facebook event:
https://www.facebook.com/events/1825757967712431/