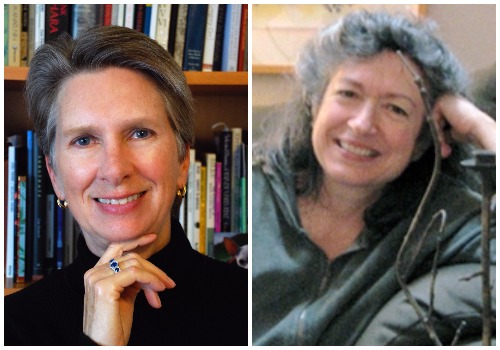 Poets Susan Kelly-DeWitt and Katherine Hastings
Read at the John Natsoulas Gallery
October 6th at 8PM
The Poetry Night Reading Series is proud to feature poets Katherine Hastings and Susan Kelly-DeWitt on Thursday, October 6th at 8 P.M. They will be performing at the John Natsoulas Gallery at 521 1st Street in Davis.
Katherine Hastings is the author of Shakespeare & Stein Walk Into a Bar (Spuyten Duyvil NYC, August 2016); Nighthawks; and Cloud Fire.  Poet laureate emerita of Sonoma County, CA, her work has appeared in many journals and anthologies, as well as The Book of Forms — A Handbook of Poetics (Lewis Putnam Turco, editor), University Press of New England.  Hastings is the editor of Digging Our Poetic Roots — Poems from Sonoma County, and What Redwoods Know — Poems from California State Parks, published as a fundraiser for the California State Parks Foundation when 70 parks were faced with permanent closure.  She hosts WordTemple on NPR affiliate KRCB FM and curates the long-running WordTemple Poetry Series in Sonoma County. For more information go to www.wordtemple.
Susan Kelly-DeWitt is the author of many books, most recently Spider Season from Cold River Press (2016). About this book, Jane Mead has said, "The poems in Susan Kelly-DeWitt's Spider Season reflect our human desire to weave the inner and outer worlds into an ordered pattern: like the spider's web, these poems are delicate, made of strong filament, and vulnerable—impermanence proves to be a force as strong as the desire for order. This book beautifully renders the process, rewards and disappointments of this universal human struggle."
The earlier publications of Susan Kelly-DeWitt include The Fortunate Islands (Marick Press, 2008), A Camellia for Judy (Frith Press, 1998), Feather's Hand (Swan Scythe Press, 2000), To A Small Moth (Poet's Corner Press, 2001), Susan Kelly-DeWitt's Greatest Hits (Pudding House, 2003), The Land (Rattlesnake Press, 2005), The Book of Insects (Spruce Street Press, 2003), Cassiopeia Above the Banyan Tree (Rattlesnake Press, 2007), and an illustrated short story The Audience (Uptown Books, 2007).
Her work has been included in a number of national and regional anthologies including The Autumn House Anthology of Contemporary American Poetry (Autumn House Press), When She Named Fire: An Anthology of Contemporary Poetry by American Women (Autumn House Press), In Whatever Houses We May Visit: An Anthology of Poems That Have Inspired Physicians (American College of Physicians) and Claiming the Spirit Within: A Sourcebook of Women's Poetry (Beacon Press). Her poems have appeared in Poetry, Prairie Schooner, New Letters, North American Review and many others. She has been featured on Writer's Almanac and Verse Daily. Susan has been the recipient of a Wallace Stegner Fellowship from Stanford University, The Chicago Literary Award from Another Chicago Magazine, the Bazzanella Award for Short Fiction and a number of Pushcart nominations. She is a member of the National Book Critics Circle and the Northern California Book Reviewers Association.
An open mic will follow the readings by the featured poets. Please bring your poems, short stories, and songs. Participants will be asked to limit their performances to five minutes or two items, whichever is shorter. Poetry Night is hosted by Davis poet laureate, Dr. Andy Jones, and is supported by a team of interns.
Upcoming Readings:
October 20: Don Thompson
November 3: Art Mantecón and Gilberto Rodriguez
November 17: DR Wagner
Future: Other poets planned for the future include Joshua Clover, Sacramento Voices, Amos White
Media Contact: Andy Jones
Email: aojones@gmail.com
The John Natsoulas Gallery 530-756-3938
www.poetryindavis.com
See the Facebook page for this event:
https://www.facebook.com/events/1268720239827622/?notif_t=plan_user_joined&notif_id=1475600237234808
You are also invited to join the Poetry in Davis Facebook group mailing list:
http://www.facebook.com/group.php?gid=2290130152&ref=ts