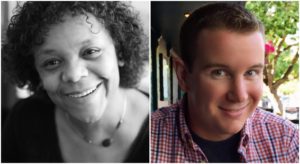 Poets Traci Gourdine & Evan White
Read at the John Natsoulas Gallery
October 20th at 8PM
The Poetry Night Reading Series is proud to feature poets Traci Gourdine and Evan White on Thursday, October 20th at 8 P.M. They will be performing at the John Natsoulas Gallery at 521 1st Street in Davis.
Traci Gourdine is a professor of English at American River College and chairs the Creative Writing department for the California State Summer School for the Arts. She was Chair of the Sacramento Poet Laureate Committee for four laureate terms. For ten years she facilitated writing workshops within several California state prisons in the Arts in Corrections program for the William James Association. Ringing in the Wild (2015) is Traci's debut full-length poetry collection, published by Ad Lumen Press.
Traci Gourdine's poetry and stories have been published in numerous literary magazines, and she has been anthologized within Shepard and Thomas' Sudden Fiction Continued. Traci and Quincy Troupe were paired in a year-long exchange of letters for the anthology Letters to Poets: Conversations about Poetics, Politics, and Community (Saturnalia Books, 2008). She is co-editor of Night is Gone, Day is Still Coming, an anthology of writing by young Native writers, as well as We Beg to Differ, poems by Sacramento poets against the Iraq war. She has also co-edited the Tule Review with Luke Breit for the Sacramento Poetry Center.
Opening for Traci Gourdine will be poet and fiction writer Evan White. White is a graduate of the University of California, Davis, where he earned a bachelor's degree in English. Since 2011 he has read many original stories on programs on KDVS 90.3 FM, and has appeared as a featured author at the Sacramento Poetry Center's "Foam at the Mouth" reading series, and the "One Night in June" reading series in San Francisco. White co-founded Absurd Publications and published an anthology of poetry and short fiction, All the Vegetarians in Texas Have Been Shot, in addition to the creative journal The Oddity. Currently he works as a graphic designer at UC Davis, and for the Sacramento-based literary magazine Under the Gum Tree. White's short story "Patterson" was recently awarded an honorable mention by Glimmer Train Magazine, and will be featured in a future presentation of Stories on Stage, Davis.
An open mic will follow the readings by the featured poets. Please bring your poems, short stories, and songs. Participants will be asked to limit their performances to five minutes or two items, whichever is shorter. The Poetry Night Reading Series is hosted by Dr. Andy Jones, the poet laureate of Davis. All are welcome.
Upcoming Readings:
November 3: Arturo Mantecon & Gilberto Rodriguez
November 17: DR Wagner & Alice Anderson
December 1: Joshua Clover
December 15: Sacramento Voices, featuring Naomi Williams and others

Future: Amos White, Dorine Jeanette, others.
Media Contact: Andy Jones
Email: aojones@gmail.com
The John Natsoulas Gallery 530-756-3938
www.poetryindavis.com
See the Facebook page for this event:
https://www.facebook.com/events/1797550913864068/
You are also invited to join the Poetry in Davis Facebook group mailing list:
http://www.facebook.com/group.php?gid=2290130152&ref=ts