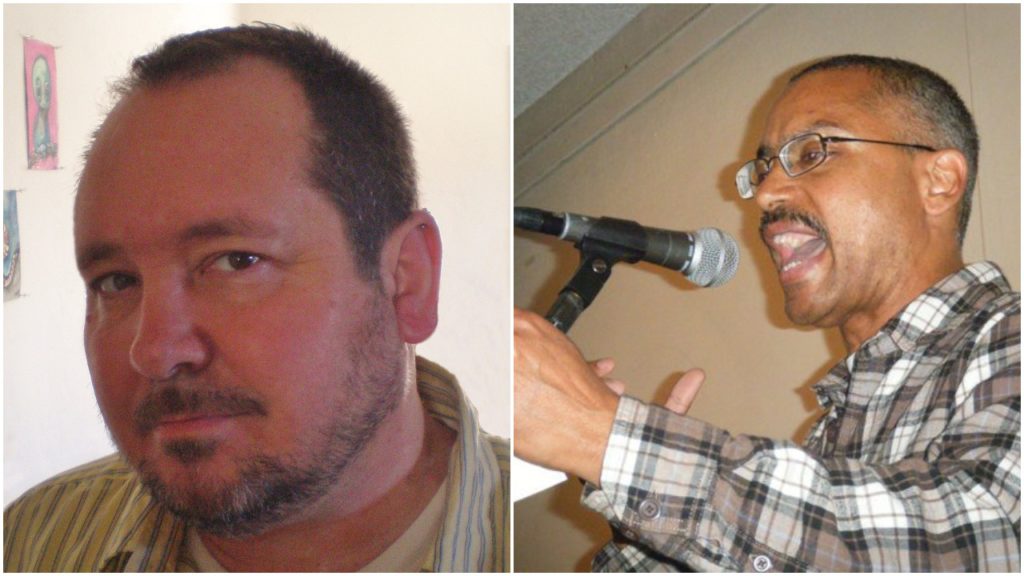 Poets Richard Loranger and Vincent Kobelt
Read at the John Natsoulas Gallery
September 15th at 8PM
The Poetry Night Reading Series is proud to feature poets Richard Loranger and Vincent Kobelt on Thursday, September 15th at 8 P.M. They will be performing at the John Natsoulas Gallery at 521 1st Street in Davis.
Richard Loranger is a writer of poetry and prose, as well as a spoken word, performance, and visual artist. He is the author of Sudden Windows (Zeitgeist Press, 2016), Poems for Teeth (We Press, 2005), The Orange Book (International Review Press, 1990), and nine chapbooks, including 6 Questions, Hello Poems, and The Day Was Warm and Blue.  His work has been included in over ninety magazines and journals, and twenty-five anthologies, among which are The Careless Embrace of the Boneshaker and It's Animal but Merciful (great weather for MEDIA), the online anthology HIV Here & Now, Overthrowing Capitalism Volume 2 (The Revolutionary Poets Brigade), Beyond the Rift: Poets of the Palisades (Poets Press), Beyond Definition and Revival: Spoken Word from Lollapalooza (both Manic-D Press), and The Portable Boog Reader (Boog Literature).  Recent work can be found in Oakland Review #2 and Dryland. He has lived in many parts of the country, including New York, Austin, Boulder, Ann Arbor, Chicago, and San Francisco, and he currently lives and works in Oakland, CA.
Vincent Kobelt has written poetry for the page, the stage, and the mic. His early work explored the murals of the Mission District of San Francisco, where he grew up; the music of jazz; the beauty of the earth; and a cry for justice. Kobelt has taught creative writing and California State Summer School for the Arts (CSSSA or Inner Spark) and has written numerous chapbooks: Peppers from my Tongue, Volumes 1 and 2, Textures of Pregnancy, The Way Light Ripples on Water, and Pinch of Salt. He recently collaborated with poet Charles Curtis Blackwell and musician Brian Kendricks on their poetry album, Catch the First Thing Smokin'.
An open mic will follow the readings by the featured poets. Please bring your poems, short stories, and songs. Participants will be asked to limit their performances to five minutes or two items, whichever is shorter.
Upcoming Readings:
October 6: Susan Kelly-DeWitt and Katherine Hastings
October 20: Don Thompson

Future: Other poets planned for the future include Art Mantecón, Joshua McKinney and Joshua Clover.
Media Contact: Andy Jones
Email: aojones@gmail.com
The John Natsoulas Gallery 530-756-3938
www.poetryindavis.com
See the Facebook page for this event:
https://www.facebook.com/events/1803340613256763/
You are also invited to join the Poetry in Davis Facebook group mailing list:
http://www.facebook.com/group.php?gid=2290130152&ref=ts