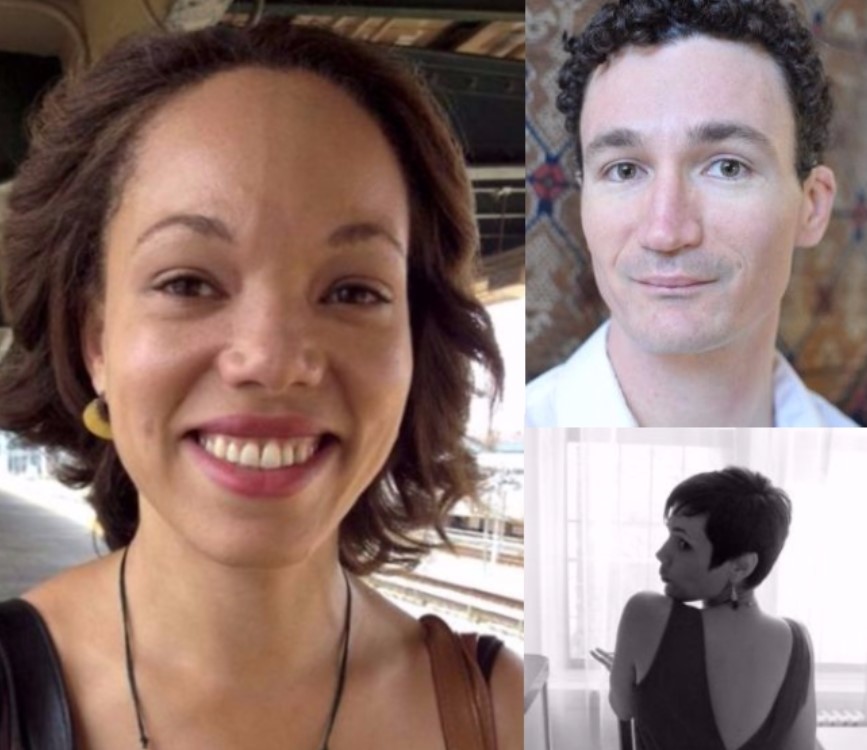 Poet Melissa Goodrum
with Musician Timothy Nutter
and Artist Erin Grey
Read at the John Natsoulas Gallery in Davis
July 21st at 8PM
The Poetry Night Reading Series is proud to feature poet Melissa Goodrum with musician Timothy Nutter and visual artist Erin Grey on Thursday, July 21st at 8 P.M. They will be performing at the John Natsoulas Gallery at 521 1st Street in Davis.
Melissa Goodrum is a professionally certified writing teacher with a Master of Fine Arts in Creative Writing, Poetry, from Brooklyn College. Goodrum has enjoyed her various leadership roles as editor of Other Rooms Press' first print anthology, Occellus Reseau, co-editor of The Brooklyn Review, publisher of Cave Canem's Fall 2010 NYC Workshop Collection, "Writing Down the Bones," co-president of the Cambridge Poetry Awards, administrative director of Bowery Arts & Sciences and as a recipient of a Zora Neale Hurston Award from the Jack Kerouac School of Disembodied Poetics at Naropa University. Her poetry has been widely published, including in the New York Quarterly, The Torch, The Tiny, Rhapsoidia, canwehaveourballback?, Transmission, a chapbook by Other Rooms Press, and Bowery Women: Poems, an anthology. While a poet and editor, she is also a translator, scholar, actor, and photographer, and is presently teaching writing in the New York City Public School system. Goodrum will be reading from her newest book of poetry, Definitions Uprising, published by NYQ Books.
Timothy Nutter is a local songwriter, dance teacher, and theatre artist. As Artistic Director of the Art Theater of Davis, he produces works of modern drama and comedy in Yolo County. His translation of Molière's The Rehearsal at Versailles will premiere at the Pence Gallery in October. Educated at the Conservatory of Dance at SUNY Purchase. Nutter has taught ballet and modern dance at Davis Arts Center, The Holistic Health Center, and SynRG Arts & Wellness. Timothy Nutter will be opening the program with some original songs, then accompanying Melissa's recitation on guitar and piano.
Erin Grey is a Brooklyn-based artist.  Grey has been in and out of institutions among which include Pratt and The Artist Students League of New York. Overall tendencies include expressionism and portraiture; however, a variety of media and methods influence her work. Grey also teaches in Brooklyn, NY. The work scheduled for this July 21st event will employ mixed materials, and the subject material will deal with the current political state inspired by the work of poet Melissa Goodrum and actor and director Charlie Chaplin. Darkly whimsical, the work hopes to visualize the dire absurdity of "Modern Times."
An open mic will follow the readings by the featured poets. Please bring your poems, short stories, and songs. Participants will be asked to limit their performances to five minutes or two items, whichever is shorter. With the help of a selection of assiduous interns, Poetry Night is hosted by Davis poet laureate Dr. Andy Jones.
Upcoming Readings:
August 4: Chris "Whitey" Erickson
August 18: Timothy Nutter
September 1: Nina Lindsay and Rosa Lane
September 15: Richard Loranger
Media Contact: Andy Jones
Email: aojones@gmail.com
The John Natsoulas Gallery 530-756-3938
www.poetryindavis.com
See the Facebook page for this event:
https://www.facebook.com/events/132572103842613/
You are also invited to join the Poetry in Davis Facebook group mailing list:
http://www.facebook.com/group.php?gid=2290130152&ref=ts