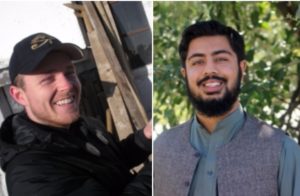 Poets William Greene and Jamil Kochai
Read at the John Natsoulas Gallery
July 7th at 8PM
The Poetry Night Reading Series is proud to feature poets William Greene and Jamil Kochai on Thursday, July 7th at 8 P.M. They will be performing at the John Natsoulas Gallery at 521 1st Street in Davis. This evening of music and poetry will resonate for you throughout the rest of the summer.
William Greene recently completed the Masters in Creative Writing program at UC Davis. Born in Atlanta, GA, in 2011 he ran a performance and educational space for the 100 Days of Spring Project on Market St. in San Francisco. In 2013 he published his first novel Flip a Three-Sided Coin (The Daily Falconer Press) and self-released his first musical album, These Days Are The Old Days. His second novel Josie and the Pimp is forthcoming, and he recently released his second musical album SCUZ.
Jamil Kochai is a graduate student in the Masters in English program at UC Davis. He primarily writes fiction, but is a poet at heart. His work has been published in two collegiate magazines, the Calaveras Station Literary Journal and The Black Rabbit, and the local fiction anthology From Sac. He has won multiple Bazzanella Literary Awards for his fiction, creative nonfiction, and poetry. His creative work often centers upon the history of his family and the history of Afghanistan. He was born in Peshawar, Pakistan, though his family originally hails from Logar, Afghanistan; Kochai speaks Pakhto, English, and a butchered version of Farsi. For the past fifteen years, Jamil Kochai has lived in West Sacramento, California.
An open mic will follow the readings by the featured poets. Please bring your poems, short stories, and songs. Participants will be asked to limit their performances to five minutes or two items, whichever is shorter. Poetry Night at the John Natsoulas Gallery is hosted by Dr. Andy Jones, the poet laureate of the City of Davis.
Upcoming Readings:
July 21: Chris "Whitey" Erickson
August 4: TBA
August 18: Timothy Nutter
September 1: Nina Lindsay and Rosa Lane
September 15: Richard Loranger
Media Contact: Andy Jones
Email: aojones@gmail.com
The John Natsoulas Gallery 530-756-3938
www.poetryindavis.com