The Poetry Night Reading Series is proud to welcome Joshua McKinney on Thursday, December 6th at 8 P.M. He will be performing at the John Natsoulas Gallery at 521 1st Street.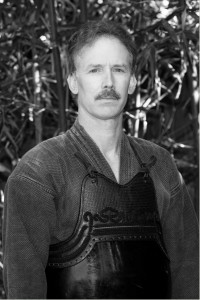 Joshua McKinney is the author of three books of poetry: Saunter, co-winner of the University of Georgia Press Poetry Series Open Competition in 2002; The Novice Mourner, winner of the Dorothy Brunsman Poetry Prize in 2005; and Mad Cursive, just published in 2012.
McKinney's poems have appeared in over 100 national journals, such as American Letters & Commentary, Boulevard, and Colorado Review.  His other awards include The Dickinson Poetry Prize and a Gertrude Stein Award for Innovative American Writing.  After earning a B.A. in English, an M.A. in the Teaching of Writing, and a single subject teaching credential from Humboldt State University, McKinney was accepted as a teaching fellow in the doctoral program at the University of Denver in 1992.
Joshua McKinney is currently a professor of English at California State University, Sacramento, where he teaches poetry, flash fiction, and Ecopoetics. An avid practitioner of Japanese sword arts, McKinney holds the rank of sandan in kendo and sandan in Mugairyu Iaihyodo.
Of McKinney's most recent book, Donald Revell has said, "Joshua McKinney articulates the mortal grandeur and (this is more poignant than I can rightly say) the tragedy of Balance. McKinney simply will not relinquish either past or present, love or bereavement, intellect or animal anguish, merely to accommodate the shrill urgings of our moment. Mad Cursive is therefore, and shall remain, a heroic collection."
Attendees are encouraged to arrive early at the John Natsoulas Gallery to secure a seat, and to sign up for a spot on the Open Mic list. The Poetry Night Reading Series, hosted by Andy Jones and produced by Rachel Riley, occurs on the first and third Thursday of every month at the John Natsoulas Gallery.
Who: Joshua McKinney
What: The Poetry Night Reading Series
When: Thursday, December 6th at 8 pm
Where: John Natsoulas Gallery, 521 1st Street
Media Contact: Rachel Riley
Email: rgriley@ucdavis.edu
The John Natsoulas Gallery 530-756-3938
www.poetryindavis.com
Please see the Facebook event:
https://www.facebook.com/events/448244835236992/
You are also invited to join the Poetry in Davis Facebook group mailing list:
http://www.facebook.com/group.php?gid=2290130152&ref=ts