The Poetry Night Reading Series is proud to welcome Sandra Gilbert on Thursday, November 1st at 8 P.M. She will be performing at the John Natsoulas Gallery at 521 1st Street.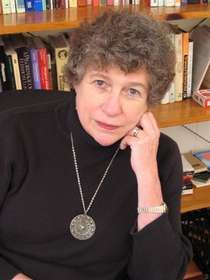 Sandra M. Gilbert is a Distinguished Professor Emerita of English at the University of California, Davis, and the author of more than 20 books, including eight collections of poetry.
Gilbert has taught at many universities including Stanford and Princeton, and is recognized as one of the most accomplished feminist literary scholars and theorists writing today. In addition to her works of poetry, in recent years Gilbert has published a memoir, an anthology of elegies, and a critical study: Rereading Women: Thirty Years of Exploring Our Literary Traditions (W. W. Norton, 2011). Her most recent volume of poems, Aftermath, was published by W.W. Norton in 2011.
Over the years, she has been presented with many awards and accolades, including the Presidency of the Modern Language Association. As a result of her long-time collaboration on several projects with Susan Gubar, a professor of English at Indiana University, they were both named a "Ms. Woman of the Year" in USA Today's "People Who Made a Difference" in 1985. She has been a recipient of Guggenheim, Rockefeller, NEH, and Soros Foundation fellowships, and she has held residencies at Yaddo, MacDowell, and Bellagio. In 1988, she was awarded a D. Litt. by Wesleyan University, and in 1990, she was (with Karl Shapiro) a co-recipient of the International Poetry Forum's Charity Randall Award. More recently, she has won a Patterson Prize and an American Book Award for her poetry books Kissing the Bread and Ghost Volcano, respectively.
Sandra Gilbert divides her time between Berkeley, California and Paris, France. We are fortunate to welcome her back to Davis.
Attendees are encouraged to arrive early at the John Natsoulas Gallery to secure a seat, and to sign up for a spot on the Open Mic list. The Poetry Night Reading Series, hosted by Andy Jones and produced by Rachel Riley, occurs on the first and third Thursday of every month at the John Natsoulas Gallery.
Who: Sandra Gilbert
What: The Poetry Night Reading Series
When: Thursday, November 1st at 8 pm
Where: John Natsoulas Gallery, 521 1st Street
Media Contact: Rachel Riley
Email: rgriley@ucdavis.edu
The John Natsoulas Gallery 530-756-3938

You are also invited to join the Poetry in Davis Facebook group mailing list:
http://www.facebook.com/group.php?gid=2290130152&ref=ts