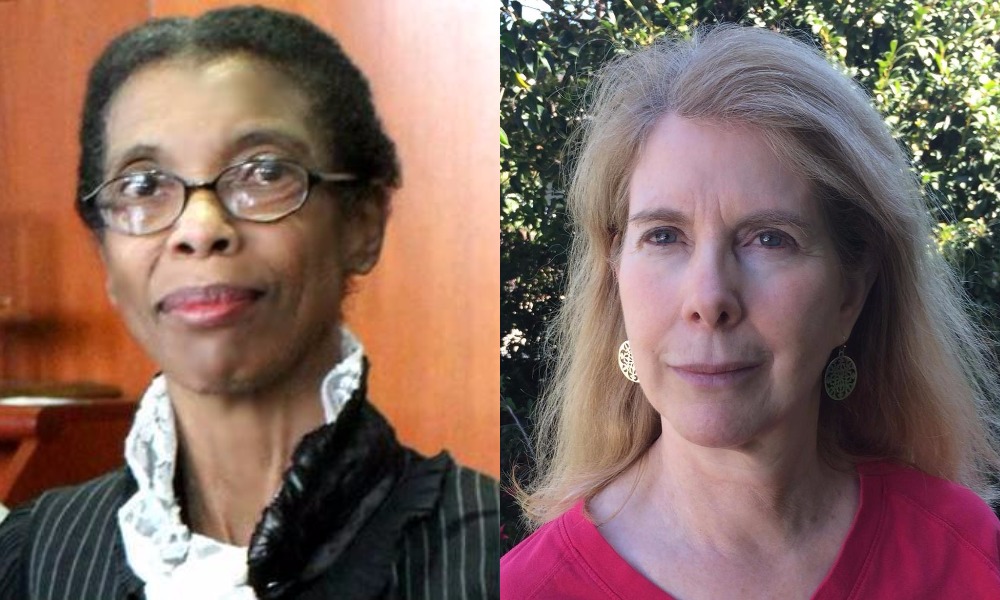 The Poetry Night Reading Series is proud to feature two outstanding poets: Angela James and Laura Rosenthal. They will perform on Thursday, January 18th at 8 P.M. at the John Natsoulas Gallery at 521 1st Street in Davis.
Angela James is a local poet and storyteller who has featured many times over the years at a variety of venues. A true performance artist, she weaves music, movement and storytelling into her poetic performances in an eclectic fusion that appeals to all audiences. James is a certified multi-disciplined teaching artist with Sacramento Metropolitan Arts Commission. She has been a judge for the California Poetry Out Loud competition and has worked with Poets in the Schools. Several micro grants from SMAC has enabled her to introduce poetry in after-school programs and incorporate it in a storytelling events. Angela's work has been published in Sacramento City College's literary magazine, Susuruss and can also be heard on the CD Echo in the Bone. She is currently working on a collection to be released later this year that chronicles the relationship between a physician and patient. A performance poet, Angela James incorporates music, storytelling and dance in her readings to produce an electric blend that stimulates all the senses.
Reading with Angela James will be Laura Rosenthal. Laura Rosenthal has recently made a passionate turn back to her "first love" of writing after an almost-40-year meander during which she practiced law, focusing on access to health care and health insurance for uninsured and uninsurable populations. Rosenthal has recently been published, or has poems forthcoming, in Poetry Now, Brevities, Tule Review, Sacramento Voices and the 2017 Squaw Valley Review. She attends the Sacramento Poetry Center's Tuesday evening workshop and participated in the most recent Squaw Valley Community of Writers Poetry Workshop.
Arrive early to sign up for a spot on the open mic that will follow the readings by our featured poets. Please bring your poems, short stories, and songs. Performers with instruments are especially welcomed. Participants will be asked to limit their performances to five minutes or two items, whichever is shorter. The Poetry Night Reading Series is hosted by Davis poet laureate Dr. Andy Jones, and supported by Dr. Andy's fervent interns.
"Writing is an act of reclamation and revolution. It is a dance with power." Rae Gouirand
Future Poetry Night Featured Performers:
February 1st: Troy Jollimore and Heather Altfeld
February 15th: Susan Kolodny and Susanne Dyckman
Media Contact: Andy Jones
aojones@gmail.com
The John Natsoulas Gallery – (530) 756-3938
Please visit the Facebook page for this event:
https://www.facebook.com/events/140987796584242/
This event also has a second Facebook event page, in which more than 100 have expressed interest.
https://www.facebook.com/events/160666101208560/
You are also invited to join the Poetry in Davis Facebook group:
https://www.facebook.com/groups/2290130152/

You can also follow us on Twitter at http://www.twitter.com/poetryindavis.