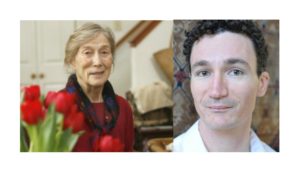 Poet Allegra Silberstein with Musician Timothy Nutter
Read at the John Natsoulas Gallery
August 18th at 8PM
The Poetry Night Reading Series is proud to feature poet Allegra Silberstein with musician Timothy Nutter on Thursday, August 18th at 8 P.M. They will be performing at the John Natsoulas Gallery at 521 1st Street in Davis.
Trained as an actor, dancer, and teacher, Allegra Silberstein has been writing poetry in California since 1963. Widely published in journals and anthologies, Silberstein was named the first Poet Laureate of Davis in 2010. Accomplished in many forms of art and performance, Allegra is a dancer with Pamela Trokanski's Third Stage Company, and she sings and plays washboard with the Front Porch Bluegrass band in Davis.
Silberstein has authored three chapbooks: Acceptance by Small Poetry Press, In The Folds by Rattlesnake Review, and Through Sun-Glinting Particles by Parallel Press. She edited the anthology of Davis poets titled Entering. Her new book, West of Angels, has recently been published by Cold River Press.
Timothy Nutter is a local songwriter, dance teacher, and theatre artist. As Artistic Director of the Art Theater of Davis, he produces works of modern drama and comedy in Yolo County. His translation of Molière's The Rehearsal at Versailles will premiere at the Pence Gallery in October. Educated at the Conservatory of Dance at SUNY Purchase, he has taught ballet and modern dance at Davis Arts Center, The Holistic Health Center, and SynRG Arts & Wellness.
An open mic will follow the readings by the featured poets. Please bring your poems, short stories, and songs. Participants will be asked to limit their performances to five minutes or two items, whichever is shorter.
Upcoming Readings:
September 1: Nina Lindsay and Rosa Lane
September 15: Richard Loranger
October 6: Susan Kelly-DeWitt and Katherine Hastings
October 20: Don Thompson

Future: Other poets planned for the future include Joshua McKinney and Joshua Clover
Media Contact: Andy Jones
Email: aojones@gmail.com
The John Natsoulas Gallery 530-756-3938
www.poetryindavis.com
See the Facebook page for this event:
https://www.facebook.com/events/1078964258877059/
You are also invited to join the Poetry in Davis Facebook group mailing list:
http://www.facebook.com/group.php?gid=2290130152&ref=ts