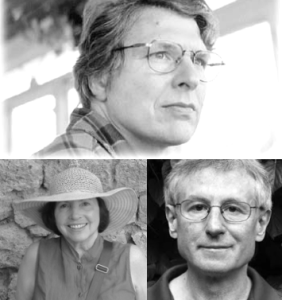 Poets Alan Williamson, Jeanne Foster, and Paul Breslin
Read at the John Natsoulas Gallery
April 7th at 8PM
The Poetry Night Reading Series is proud to feature poets Alan Williamson, Jeanne Foster, and Paul Breslin on Thursday, April 7th at 8 P.M. They will be performing at the John Natsoulas Gallery at 521 1st Street in Davis.
Alan Williamson retired from teaching for the UC Davis English Department in 2013, but he continues to teach in the Warren Wilson MFA Program for Writers. His students have included James Franco, Joe Wenderoth, and thousands of grateful UC Davis alumni. Williamson is the author of five books of poetry, most recently The Pattern More Complicated: New and Selected Poems (University of Chicago Press), and five books of criticism, mostly recently Westernness: A Meditation (University Press of Virginia). Recent poems have appeared in The Yale Review, Ploughshares, and Agni, among other magazines.
Jeanne Foster is Professor of English at Saint Mary's College. She is currently involved in two Italian-centered projects: a memoir of the ballroom dance world in Italy (her passion is ballroom dancing) and the translation in collaboration with Alan Williamson of selected poems of Bianca Tarozzi, poet and professor at the University of Verona. Foster's poems have appeared in APR, Hudson Review, Triquarterly, Ploughshares, Literary Imagination, and others. She is co-editor with Phyllis Stowell of Appetite: Food as Metaphor, an anthology of poems by women (BOA). Her poetry collection, A Blessing of Safe Travel, won the Quarterly Review of Literature Poetry Award. Her new collection, Goodbye, Silver Sister, was published by Northwestern University Press.
Paul Breslin (Ph.D. University of Virginia) is author of The Psycho-Political Muse: American Poetry since the Fifties (Chicago, 1987); You Are Here (poems, TriQuarterly Books, Fall 2000); Nobody's Nation: Reading Derek Walcott (Chicago, 2001); Between My Eye and the Light (poems, TriQuarterly/Northwestern University Press, October 2014).
An open mic will follow the readings by the featured poets. Please bring your poems, short stories, and songs. Participants will be asked to limit their performances to five minutes or two items, whichever is shorter.
Upcoming Readings:
April 8: Dr. Andy's Book Release Party at the Avid Reader in Davis (7:30 PM)
April 21: Musician, Novelist, and Poet Nick Jaina
May 5: Matthew Zapruder and Jason Bayani
May 19: Linda Lancione and Laurie Glover
June 2: UC Davis Professor Katie Peterson and her English 100P Students

Future: Other poets planned for the future include Richard Loranger, Joshua McKinney, and Joshua Clover.
Media Contact: Andy Jones
Email: aojones@gmail.com
The John Natsoulas Gallery 530-756-3938
www.poetryindavis.com
See the Facebook page for this event:
https://www.facebook.com/events/984728514897098/
You are also invited to join the Poetry in Davis Facebook group mailing list:
http://www.facebook.com/group.php?gid=2290130152&ref=ts