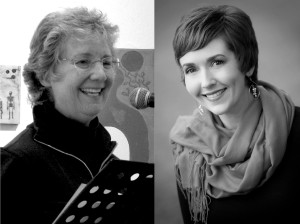 Poets Jan Haag and Kate Asche
Read at the John Natsoulas Gallery
March 17th at 8PM
The Poetry Night Reading Series is proud to welcome poets Jan Haag and Kate Asche on Thursday, March 17th at 8 P.M. They will be performing at the John Natsoulas Gallery at 521 1st Street in Davis.
When Jan Haag was 11 years old, her father brought home a hand-cranked mimeograph machine, which launched her writing career with the creation of a neighborhood newspaper. She worked as a reporter and copy editor for newspapers large and small, as well as an international wire service, and she served as editor for Sacramento magazine in the early 1990s. She has been a professor of Journalism and English at Sacramento City College since 1993 and is currently the chair of the journalism department, where she advises the campus newspaper.
Haag is the author of a book of poems, Companion Spirit, published by Amherst Writers & Artists Press, and another poetry collection is in process. Her young adult novel, Ocean Falls, takes place in British Columbia, and she is working on a novel set in Sacramento in the 1950s and 1970s. She has had work published in many journals and anthologies.
Kate Asche writes poetry, essays and short stories. A graduate of the UC Davis Creative Writing Program, she is a writing teacher and literary community builder in Sacramento, CA. Her first poetry collection, the chapbook Our Day in the Labyrinth, was published by Finishing Line Press in September 2015, and she has poems forthcoming in Natural Bridge. Her poetry has appeared in Bellingham Review, RHINO, Pilgrimage, the 2012 anthology Late Peaches: Poems by Sacramento Poets and elsewhere. Her creative nonfiction has appeared in Under the Gum Tree. She received two Elliot Gilbert Prizes in Poetry, and an Academy of American Poets Award.
Asche was associate director of Arts, Humanities and Writing at UC Davis Extension, where she coordinated The Tomales Bay Workshops under the direction of Pam Houston, and she helped to establish the award-winning I Street Pressat Sacramento Public Library. Asche is a trained facilitator in the Amherst Writers and Artists (AWA) Method and has taught creative writing in a variety of academic and community settings since 2005; she currently teaches workshops in Sacramento and provides manuscript coaching to writing groups and individuals. She volunteers as associate editor for Under the Gum Tree (and has volunteered as associate editor of Tule Review, a publication of Sacramento Poetry Center).
Upcoming Readings:
April 7: Alan Williamson and friends
April 21: Nick Jaina
May 5: Matthew Zapruder and Jason Bayani
Future: Other poets planned for the future include Laurie Glover, Richard Loranger, Joshua McKinney, and Joshua Clover.
Media Contact: Andy Jones
Email: aojones@gmail.com
The John Natsoulas Gallery 530-756-3938
www.poetryindavis.com