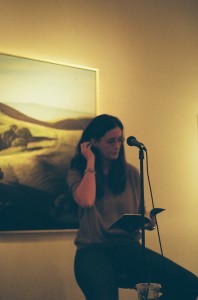 Born in 1977 in Washington, D.C., Virginia Robinson earned her M.A. in Creative Writing at the University of California at Davis, where she was the winner of the Celeste Turner Wright Prize for her poem "Snail Wake." Carrier, her first collection of poetry, was chosen by Sandra McPherson for publication by Swan Scythe Press in 2005. Robinson has given readings in bookstores and college campuses in California and North Carolina, most notably at City Lights Bookstore in San Francisco.
Of Robinson's book Carrier, Jim Fairhall has written "Virginia Robinson balances her bracing, always surprising poems on the knife edge that separates women from men, civilians from soldiers, and beautifully evoked places in North Carolina and California from the unknowable wars in Afghanistan and Iraq. … Sometimes, like [Tim] O'Brien's "The Things They Carried," [her poetry] touches us and makes us think about paradoxes. It has just the right combination of art and heart."
To find out more about Virginia Robinson, visit her blog, Minnow Peck.
Virginia Robinson performed on September 1st, 2011.