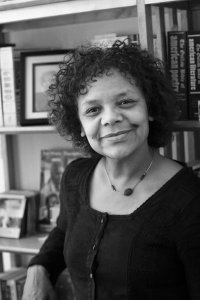 Traci Gourdine's poetry and stories have been published in numerous literary magazines, and she has been anthologized within Shepard and Thomas' Sudden Fiction Continued (Norton Publishing). She is co-editor of Night is Gone, Day is Still Coming (Candlewick Press), an anthology of writing by young Native writers, as well as, We Beg to Differ, poems by Sacramento poets against the war. She has also co-edited the Tule Review with Luke Breit for the Sacramento Poetry Center.
She chairs the Creative Writing department for the California State Summer School for the Arts and is chair of the Sacramento Poet Laureate Committee. For ten years she facilitated writing workshops within several California state prisons. Originally from New York, she lives in Davis, CA where she has raised two daughters.
Traci Gourdine performed on June 18th, 2008.