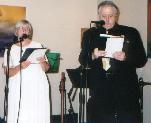 Joseph and Susan Finkleman have published poetry, CDs of their poetry, and original art and photography. Joe Finkleman is an artist, photographer and animator who earned an MFA from the San Francisco Art Institute, and who spends much of his time writing and performing poetry. His libretto of the opera You Who Know is scheduled to be performed at California State University, Sacramento. Susan Finkleman's poetry has been published by Susurrus, The Yolo Crow, and the Sacramento News and Review. Susan and Joe's most recent chapbook, Poems in Two Voices, is available via Rattlesnake Press. Find out more about Joseph and Susan Finkleman at their website: www.visionsandviews.com
Further information about these performers:
http://www.visionsandviews.com/
Joe and Susan Finkelman performed on January 16th, 2008.