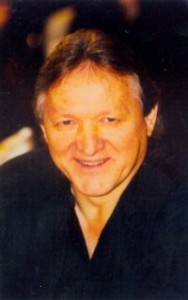 James Ragan has read his work at Carnegie Hall and the United Nations. In 1985 he was one of three Americans (with Robert Bly and Bob Dylan) invited to perform at the First International Poetry Festival in Moscow. Ragan's published collections include Too Long a Solitude, In the Talking Hours, Womb-Weary, The Hunger Wall, Lusions, Selected Poems, and Shouldering the World.His screenwriting credits include The Longest Yard, The Border, Matilda, and Oscar-winner, The Deerhunter.He served as Director of the Graduate Professional Writing Program at the University of Southern California, and now writes full-time and travels/lectures extensively as one of the United States' most beloved ambassadors of modern poetry.
James Ragan is a close friend of Davis poet Brad Henderson, aka Beau Hamel. The two men met over 20 years ago when Henderson/Hamel was pursuing his graduate degree in writing at USC and Dr. Ragan served as his mentor and poetry adviser.
James Ragan performed on May 20th, 2009.