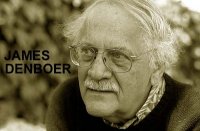 Long appreciated by local readers of poetry, James DenBoer's work has appeared in a great variety of publications in multiple media. DenBoer has authored eight books of poetry spanning almost 40 years, has appeared in another seven anthologies of poetry and literature, and has won awards and grants from the National Council on the Arts, the Author's League of America, the Carnegie Fund for Authors and the National Endowment for the Arts.
Great and recognizable poets have celebrated the poetry of James DenBoer. National Book Award-winner William Stafford said that DenBoer's "readers are immediately enriched by the various dimensions that an original and assured mind can give to the texture of real life in our time." Pulitzer Prize winner and former Poet Laureate William Meredith wrote that DenBoer's poetry "reveals a growth in humor, in tough-mindedness, and in affection for the natural world." And David Wagoner, former Chancellor of The Academy of American Poets, has said, "The voice of James DenBoer . . . seems lucid, flexible, refreshing, and important."
DenBoer's most recent book, Stonework: Selected Poems, was published by Sandra McPherson's Swan Scythe Press, in the city of Davis.
James Denboer performed on March 19th, 2008.