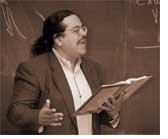 Alarcón is the recipient of the Chicano Literary Prize (1984), the American Book Award (1993), the PEN Oakland Josephine Miles Award (1993), and the Fred Cody Lifetime Achievement Award from the Bay Area Book Reviewers Association (BABRA). He was one of the three finalists nominated for the position of California's state poet laureate. As a poet, Alarcón brings wit, joy, and an indomitable spirit to his performances.
Alarcón's poetry reflects an appreciation of multiple Native, Mexican and Californian cultures. One of his most important books, Snake Poems: An Aztec Invocation (1992) was influenced by his relationship with his grandmother and her native Nahuatl language. Of Snake Poems Jack Hicks of the UC Davis English Department has said that "you get a sense from the beginning that this is a poetry that sees power alive in the soil and the universe around us, and that by using language, we can invoke those powers."
Many of Alarcón's ten volumes of poetry have been translated into numerous languages. Two of these, Cuerpo en llamas (1992) and De amor oscuro (1992), were even published in the Irish-Gaelic language. His very first collection of poetry, Tattoos (1985), was so well received that Alarcón was awarded the Ruben Darío First Prize for Latin American Poetry. Some of his more recent books include Sonnets to Madness and Other Misfortunes / Sonetos a la locura y otras penas (2001) and From the Other Side of Night / Del otro lado de la noche: New and Selected Poems (2002).
Alarcón earned his Master's degree at Stanford University and currently works at UC Davis as head of the Spanish for Native Speakers Program.
Further information about this performer:
http://www.colorincolorado.org/read/meet/alarcon
http://www-dateline.ucdavis.edu/041400/DL_alarcon.html
http://www.poetrymagazine.com/archives/2003/May03/alarcon.htm
Francisco Alarcón performed on May 22nd, 2007 and January 5th, 2011.