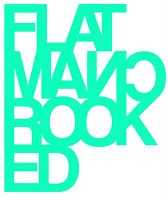 Flatmancrooked is a full-service, independent online and print publishing house established by Elijah Jenkins and James Kaelan in 2008. Since then, they have held readings and other events on both coasts and at numerous universities, partnered on various ventures with the likes of McSweeney's, Opium, AWP, and SxSW, and published three print books and two anthologies, with many more yet to be released in 2010 and beyond.
Peter Grandbois' is the author of The Gravedigger (Chronicle Books, 2006), a Borders Books and Music "Original Voices" selection, and a Barnes and Noble "Discover Great New Writers" pick. His translation of San Juan: A Memoir of a City was recently nominated for a PEN Translation award, and he is the recipient of an honorable mention for the 2007 Pushcart Prize. Grandbois currently teaches creative writing and contemporary literature at California State University, Sacramento. His book, The Arsenic Lobster: A Hybrid Memoir is forthcoming from Spuyten Duyvil Books later this year.
James Kaelan writes for The Sweet Science and for Bedlam Magazine. He earned his BA degree from the University of California, Davis and a MFA from Boston University. He has been nominated for the Pushcart Prize, and his novel, Brute, was released in 2010.
Elijah Jenkins is the co-founder and executive director of Flatmancrooked, a Sacramento-based literary journal. His work has appeared in McSweeney's Internet Concern, NOO Journal, Underground Voices, and a Flatmancrooked anthology.
Further information about Flatmancrooked:
http://www.flatmancrooked.com
Flatmancrooked Book Releases took place on June 17th, 2009 and on April 22nd, 2010.