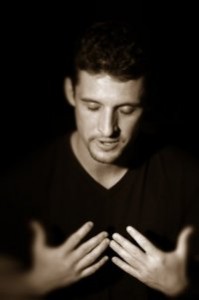 Drew Dellinger is a spoken word poet, teacher, writer, activist and founder of Poets for Global Justice. He has spoken at hundreds of events in many countries, performing poetry and keynoting on justice, ecology, cosmology, activism, democracy and compassion. He has spoken and performed at numerous conferences as well as colleges, poetry venues, and protests. Dellinger has shared podiums and stages with luminaries such as Alice Walker, Cornel West, Robert F. Kennedy Jr., Danny Glover, Ani Difranco, Eve Ensler, Chuck D, Paul Hawken, Van Jones and many others.
Dellinger's work has appeared on radio, in films, books, anthologies, and in magazines, from The New York Times magazine to YES! magazine. His collection of poems, Love Letter to the Milky Way—now in its third printing—has sold thousands of copies in North America, South America, Europe, Africa and Australia. His poems have been shared at gatherings and conferences; in classrooms and prisons; in women's groups, men's groups, and in spiritual communities.
From 2006-2007 Dellinger was Associate Professor and Director of the Program in Social Ecology at John F. Kennedy University. He has taught at colleges, graduate schools and learning centers, including Prescott College, Naropa University-Oakland, Esalen Institute and Sophia Center. Dellinger has studied cosmology and ecological thought with Thomas Berry since 1990 and is finishing his PhD at the California Institute of Integral Studies. He is currently writing his dissertation on Martin Luther King, Jr. and the connections between cosmology, ecology and social justice. Dellinger lives in the San Francisco Bay Area.
Further information about this performer:
http://www.drewdellinger.org
Drew Dellinger performed on April 1st, 2009.