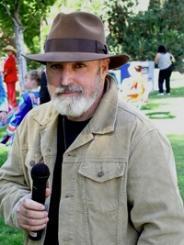 Bill McDonald, along with a decorated military career, has had an accomplished literary career with over 300 interviews on television, radio, and print.  McDonald has a long history with California and graduated with his BA degree from the University of San Francisco.  A major pillar of his writing and community involvement has been his experience in Vietnam from 1966-1967, when he served as a crew chief/door gunner on Huey helicopters.  Some of his works include A Spiritual Warrior's Journey" andPurple Hearts."  Along with being a radio host, he is also the founder of two of the largest author organizations in North America: The Military Writer's Society of America and The American Author's Association.
Further information about this performer:
http://www.lzangel.com/McDonald/mcdonald.htm
http://www.amazon.com/W.-H.-McDonald-Jr/e/B002BOBSA4/ref=ntt_athr_dp_pel_pop_1
Bill McDonald performed on July 15th, 2009.