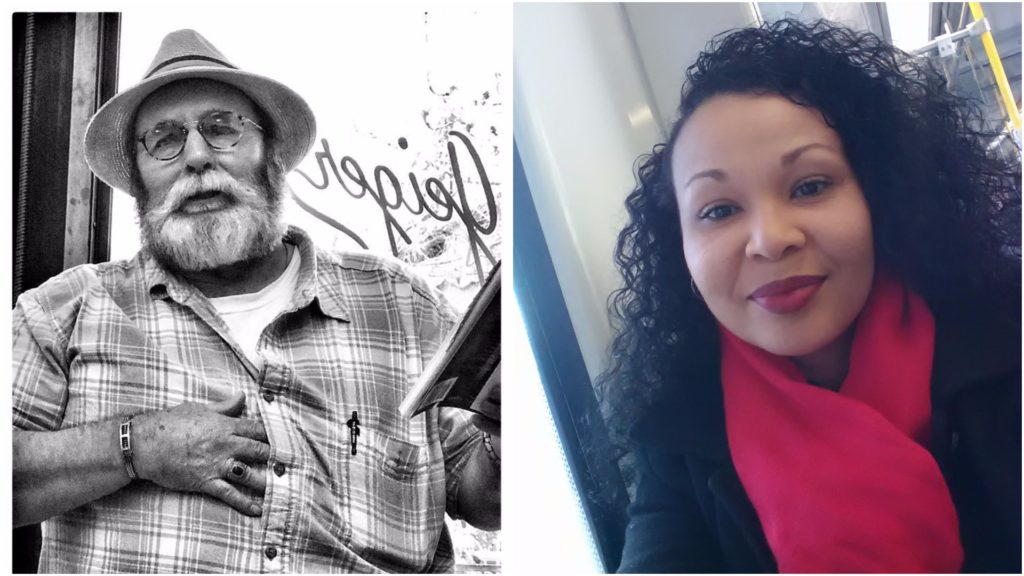 The Poetry Night Reading Series is proud to feature two outstanding poets: Bill Gainer and Anna Marie. They will perform on Thursday, December 7th at 8 P.M. at the John Natsoulas Gallery at 521 1st Street in Davis.
Bill Gainer is a storyteller, humorist, poet, and a maker of mysterious things. He earned his BA from St. Mary's College and his MPA from the University of San Francisco. He is the publisher of the PEN Award-winning R. L. Crow Publications and is the ongoing host of Red Alice's Poetry Emporium in Sacramento. Internationally published, Bill Gainer is known for the openness of his confessional poetry and is recognized as one of the founding contributors to the modern movement of "After Hours Poetry."
Gainer says, "My poetry is written with an economy of words. I believe that the strongest way for poetry to achieve its goal, to express an emotion or feeling, is through the minimal poem." Gainer has contributed to the literary scene as a writer, editor, promoter, publicist and poet. He is a co-founder and current board member of the Nevada County Poetry Series. Gainer has read and worked with a wide range of poets and writers, including readings on KUSF with Punk rocker Patti Smith and performances with California's Poet Laureate, Al Young. Bill Gainer's latest book is The Mysterious Book of Oald Man Poems. Find out more about our featured poet, Bill Gainer, at http://www.billgainer.com.
Reading with Gainer will be Anna Marie. Anna Marie is a Sacramento spoken word poet, author and visual artist. She has featured at many of northern California's finest venues, such as Mahogany Poetry Series, Luna's Cafe, The Guild Theatre, The Crocker Art Museum. The topics of her poems range from the political to the domestic, uplifting and empowering women with words of understanding and wisdom. The recipient of many poetry prizes, Anna Marie is the 2012 Love Jones champion, placing second at the same event in 2017. Her books Tablespoons of Tears and A Poet's Handbag are available online at Barnes and Noble and Amazon.com.
Arrive early to sign up for a spot on the open mic that will follow the readings by our featured poets. Please bring your poems, short stories, and songs. Performers with instruments are especially welcomed. Participants will be asked to limit their performances to five minutes or two items, whichever is shorter. The Poetry Night Reading Series is hosted by Davis poet laureate Dr. Andy Jones, and supported by Dr. Andy's enthusiastic interns.
"Writing is an act of reclamation and revolution. It is a dance with power." Rae Gouirand
Future Poetry Night Featured Performers:
December 21st at 7 PM: Beth Suter (note the new time – no open mic this week)
January 4th: Chris Erickson
January 18th: Angela James and Laura Rosenthal
February 1st: Troy Jollimore and Heather Altfeld
February 15th: Susan Kolodny and Susanne Dyckman
Media Contact: Andy Jones
aojones@gmail.com
The John Natsoulas Gallery – (530) 756-3938
Please visit the Facebook page for this event:
https://www.facebook.com/events/1519657631433103/
You are also invited to join the Poetry in Davis Facebook group:
https://www.facebook.com/groups/2290130152/

You can also follow us on Twitter at http://www.twitter.com/poetryindavis.
SaveSave