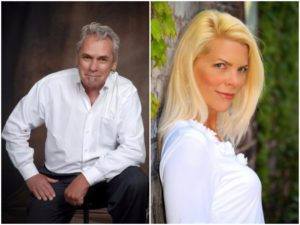 DR Wagner & Alice Anderson
Read at the John Natsoulas Gallery
November 17th at 8PM
The Poetry Night Reading Series is proud to feature poets Don Thompson and Evan White on Thursday, November 17th at 8 P.M. They will be performing at the John Natsoulas Gallery at 521 1st Street in Davis.
Musician, poet, and visual artist, DR Wagner has been active as a writer and publisher for more than 50 years. Wagner has published over twenty books of poetry and letters, has featured in over thirty solo exhibitions (as well as over one-hundred group shows), and has lectured at over twenty universities. Over the years, DR Wagner has served such prestigious posts as special Consultant to the California Art Council in Technical Services, Director of the California State Art in Public Buildings Program for Office of the State Architect, Director of the State of California Housing and Community Development Art Gallery, and Artist in Residence: State of Nevada.
Having taught Design at UC Davis for more than 20 years, DR Wagner is the recipient of such awards as the Fibers West Award and an award for Traditional Technique at the International Textile Competition (1987, Kyoto). DR Wagner is a founding member of the band R. Spoon, with whom he is currently recording a CD of original, vocal music. He founded and directed for six years the Open Ring Galleries, a not-for-profit corporation for the arts in Sacramento. DR Wagner's most recent books of poetry include 97 Poems, Remembering Eternity, and, in 2016, Love Poems.
Alice Anderson's first book Human Nature (NYU Press, 1994) won both the Elmer Holmes Bobst Prize for Emerging Writers from NYU and the Best First Book Prize from the Great Lakes Colleges Association. Anderson holds an MFA from Sarah Lawrence College. Her memoir, Some Bright Morning I'll Fly Away, is forthcoming from St. Martin's Press. Her new poetry collection, The Watermark, was recently published by Eyewear Publishing.
Cheryl Strayed, author of Wild, said "Anderson's honesty will take your breath away. She has the courage to tell her heart's deepest, darkest truths while never compromising on the poet's craft. Anderson's poems are rigorous and right." Alice Anderson has lived in Paris, Geneva, Milan, and Osaka, and is currently residing in Northern California.
An open mic will follow the readings by the featured poets. Please bring your poems, short stories, and songs. Participants will be asked to limit their performances to five minutes or two items, whichever is shorter. The Poetry Night Reading Series is hosted by Dr. Andy Jones, the poet laureate of Davis. All are welcome.
Upcoming Readings:
December 1: Joshua Clover
December 15: Sacramento Voices, featuring Naomi Williams and others

Future: Amos White, Dorine Jeanette, others.
Media Contact: Andy Jones
Email: aojones@gmail.com
The John Natsoulas Gallery 530-756-3938
www.poetryindavis.com
See the Facebook page for this event:
https://www.facebook.com/events/1518859178130541/
You are also invited to join the Poetry in Davis Facebook group mailing list:
http://www.facebook.com/group.php?gid=2290130152&ref=ts