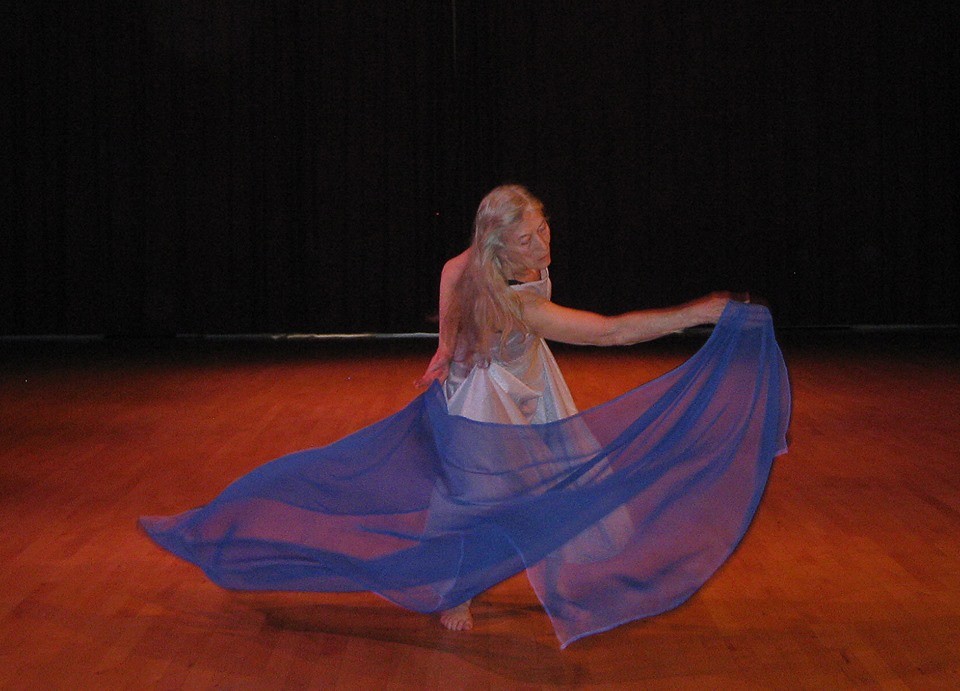 Allegra Silberstein, featuring Katy Brown
Please join us at 8pm on Thursday, April 2nd at the John Natsoulas Gallery in Davis for a Poetry Night Reading Series performance and book release party featuring Davis Poet Laureate Emerita Allegra Silberstein. Silberstein will read from her new Cold River Press book, West of Angels. Opening for Silberstein will be Davis poet Katy Brown.
Trained as an actor, dancer, and teacher, Allegra Silberstein has been writing poetry in California since 1963. Widely published in journals and anthologies, Silberstein was named the first Poet Laureate of Davis in 2010. Accomplished in many forms of art and performance, Allegra is a dancer with Pamela Trokanski's Third Stage Company, and she sings and plays washboard with the Front Porch Bluegrass band in Davis.
Silberstein has authored three chapbooks: Acceptance by Small Poetry Press, In The Folds by Rattlesnake Review, and Through Sun-Glinting Particles by Parallel Press. She edited the anthology of Davis poets titled Entering. Her new book, West of Angels, has recently been published by Cold River Press.
Dr. Andy Jones has written this about West of Angels: "Like some of the characters in this marvelous new book, West of Angels, beloved and perceptive Davis Poet Laureate Emerita Allegra Silberstein speaks "in hushed temple voices of ordinary things" and makes the quotidian awaken and enliven, like one poem's "gigantic petrified eggs . . . hatching in golden shadows." The Silberstein voice is receptive to the offerings of nature, from the "lacework lichens on an altar of fallen limbs," to the "murmurations of light that move / through maple leaves golden red in the winter sun." Compelled to "speak the tender of [her] thoughts," Silberstein explores discoveries made possible by an alert and sympathetic imagination, she recounts generous insights about the human spirit, and she "mirrors with perfect clarity" the specific and chromatic variety of the natural world. Silberstein's writing reminds us why, as one poem's title tells us, "there are so many reasons for singing," and each of these patient and accessible songs rewards the reader and speaker innumerably. With West of Angels, Silberstein reminds us all why she is so widely welcomed and appreciated by event hosts, editors, and anthologists alike."
Joining Silberstein on stage will be the talented stand-up bass player Keith Cary. Cary plays steel guitar, string bass, and mandolin, among other instruments. He also builds many of the instruments he plays, so he knows them inside and out.
Opening for Silberstein will be Davis poet and photographer Katy Brown. Brown's work appears frequently in Medusa's Kitchen and Convergence. Rattlesnake Press produced The Quality of Light, a chapbook of her photographs and poems. Brown has won awards in The Ina Coolbrith Circle, Berkeley Poets' Dinner, California Federation of Chaparral Poets, and The International Dance Poetry competitions; and has been nominated for the Pushcart Prize. Brown's photographs can be found on the covers of the Silberstein books Entering and West of Angels.
The featured poet will perform starting at 8 PM. The open mic will begin at 9 PM, and the after-party at de Vere's Irish Pub will start at 10 PM. You are encouraged to arrive early to secure a seat and to sign up for a spot on the open mic List. Copies of Allegra Silberstein's new book West of Angels will be available for sale at the Gallery and is available online via Cold River Press.
The Poetry Night Reading Series takes place at the John Natsoulas Gallery on the first and third Thursday of every month. Poetry Night at the John Natsoulas Gallery is an entirely volunteer-run affair. We hope to see you there!
Who: Allegra Silberstein and Katy Brown
What: The Poetry Night Reading Series
When: Thursday, April 2nd, 8 pm
Where: John Natsoulas Gallery, 521 1st Street
The John Natsoulas Gallery – (530) 756-3938
West of Angels at Cold River Press
The Facebook Event Page: https://www.facebook.com/events/992482347431240/
{ 0 comments }