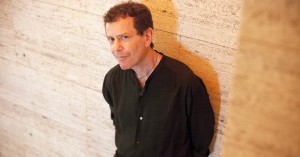 The Poetry Night Reading Series proudly welcomes Chicago professor David Lazar for an evening of poetry and surprises.
Born in Brooklyn, David Lazar earned graduate degrees at Stanford and Syracuse and his Ph.D. at the University of Houston, working with Hayden Carruth, Phillip Booth, Ray Carver and Phillip Lopate.
David's books include Occasional Desire from the University of Nebraska Press, The Body of Brooklyn and Truth in Nonfiction (both Iowa), Powder Town (Pecan Grove), Michael Powell: Interviews and Conversations with M.F.K. Fisher (both Mississippi). Forthcoming are Essaying the Essay from Welcome Table Press and After Montaigne from the University of Georgia Press.
David's essays and prose poems have appeared widely in anthologies such as Bending Genres, Understanding the Essay, Metawritings: Toward a Theory of Nonfiction and Sentence's An Introduction to the Prose Poem, and magazines such as Gulf Coast, Black Clock, Sentence, Denver Quarterly, Best of the Prose Poem, and Southwest Review. Five of his essays have been "Notable Essays of the Year" according to Best American Essays.
David created the undergraduate and Ph.D. programs in Nonfiction Writing at Ohio University, and directed the creation of the undergraduate and M.F.A. programs in Nonfiction Writing at Columbia College Chicago. He is the founding editor of the literary magazine Hotel Amerika, now in its thirteenth year. He lives in Chicago with his son, Delmore.
The Poetry Night Reading Series meets on the first and third Thursdays of every month at the John Natsoulas Gallery, 521 1st Street in the City of Davis. An open mic will follow the featured poet at about 9 PM, with spots available to those who come early to sign up. The after-party begins at about 10 PM. All are invited.
Who: David Lazar
What: The Poetry Night Reading Series
When: Thursday, December 5th, 8pm
Where: John Natsoulas Gallery, 521 1st Street
Media Contact:
Andy Jones
aojones@gmail.com
The John Natsoulas Gallery – 756-3938
www.poetryindavis.com
See the Facebook page for this event at https://www.facebook.com/events/220204968160956/
Please also join the Poetry in Davis Facebook group at https://www.facebook.com/groups/2290130152/
{ 0 comments }