Please join us at 8 PM this Thursday, November 20th, at the John Natsoulas Gallery (521 First Street, Davis) for Poetry Night featuring the poets Judith Rose and Betsy Rosenberg.
One of Israel's most sought-after English translators and poets, Betsy Rosenberg has been a resident of Israel since 1967. A poet, musician, and translator, Rosenberg studied at the Hebrew University and the Rubin Academy of Music in Jerusalem. Winner of the Marshall Award for Translation of Children's Literature in 2000, Rosenberg has given her papers to Indiana University, home of the recently established "Betsy Rosenberg Archives," a collection of her works created for scholars to study the different aspects of translation. She has translated works by Israeli authors David Grossman, Aharon Appelfeld, Gabriel Preil, Miron C. Izakson and others.
Gabriel Levin says, "Betsy Rosenberg enchants and unsettles in poems that read like oracles syncopated with a variety of styles, from Persian moosiqi to Gilbert and Sullivan and jazz. Lyrical intimations, kabbalistic and biblical, classical Greek or Chinese sustain her night vigils and travels through time and space, reminding us that Jerusalem, the contentious city in which she lives, can become, like her poetry, a locus of mysterious concatenations and ever more vivid amazement."
Rosenberg's Selected Poems, titled A Future More Vivid has just been published this month (November, 2014) by The Sheep Meadow Press.
UC Davis alumna Judith Rose has published poetry and fiction in many of the top literary journals, including Calyx, The Indiana Review, Prairie Schooner, the Iowa Review and The Virginia Quarterly Review. Living in St. Helena, California, Rose published her poetry book Walking the Minefield through Finishing Line Press in 2012. The title of the collection reflects her experience of walking behind her son through a minefield in Cambodia. Pulitzer Prize-winning poet and UC Davis emeritus professor Gary Snyder wrote of this volume, "A remarkable collection, deeply lived. And many living beings: small, diverse, intense, invoked along the way."
Davis Poet Laureate Dr. Andy Jones has known Rose for more than 20 years, and knows her to be a sensitive and eloquent poet. Please join us in hearing from these two talented authors.
The featured poets will perform starting at 8 PM. The open mic will begin at 9 PM, and the after-party at de Vere's Irish Pub will start at 10 PM. You are encouraged to arrive early to secure a seat and to sign up for a spot on the Open Mic List.
The Poetry Night Reading Series takes place at the John Natsoulas Gallery on the first and third Thursday of every month. Poetry Night at the John Natsoulas Gallery is an entirely volunteer-run affair.
What: The Poetry Night Reading Series features Betsy Rosenberg and Judith Rose
When: Thursday, November 20th at 8 PM
Where: The John Natsoulas Gallery (521 First Street, Davis)
The John Natsoulas Gallery – (530) 756-3938
P.S. Future Poetry Night performers include the Sable and Quill poets on December 4th.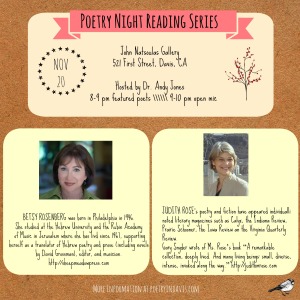 { 0 comments }