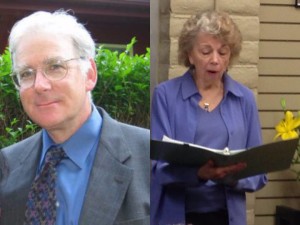 Bob Stanley and Mary Zeppa Perform New Poems!
Please join us at 8pm on Thursday, April 16th at the John Natsoulas Gallery in Davis for a Poetry Night Reading Series performance by Bob Stanley and Mary Zeppa. Stanley is the longtime president of the Sacramento Poetry Center, and former Sacramento Poet Laureate, while Zeppa is the author of a new book. Bob will be bringing his banjo to the reading next Thursday.
Working as a singer, lyricist, poet and literary journalist, Mary Zeppa has been active as a poet since 1981. Zeppa has published poems in various print and on-line journals, and important anthologies. As a passionate and prolific writer, Zeppa just launched her new book, My Body Tells Its Own Story!, on April 6 at the Sacramento Poetry Center.
Bob Stanley, the Poet Laureate of Sacramento from 2009 to 2012, has authored two chapbooks: Eleven Blue Strings by Little M Press and Wait Whitman Orders a Cheeseburger by Rattlesnake Press. Having written poetry for over three decades, Stanley has won a number of awards, including the California Focus on Writers Award in 2006. A volunteer for various poetry organizations, Stanly edited Sometimes in the Open, an anthology of poems by sixty-five poets laureate. The President of the Sacramento Poetry Center, Bob Stanley teaches English at Sacramento State University, Sacramento City College, and UC Davis Extension. He frequently travels with a banjo and other stringed instruments.
The featured poets will perform starting at 8 PM. The open mic will begin at 9 PM, and the after-party at de Vere's Irish Pub will start at 10 PM. You are encouraged to arrive early to secure a seat and to sign up for a spot on the open mic list.
The Poetry Night Reading Series takes place at the John Natsoulas Gallery on the first and third Thursday of every month. Coordinated by Davis Poet Laureate Dr. Andy Jones, Poetry Night at the John Natsoulas Gallery is an entirely volunteer-run affair. We hope to see you there!
Who: Mary Zeppa and Bob Stanley
What: The Poetry Night Reading Series
When: Thursday, April 16th, 8 pm
Where: The John Natsoulas Gallery, 521 1st Street
(530) 756-3938
The Facebook Event Page: https://www.facebook.com/events/778798838855034/
{ 0 comments }